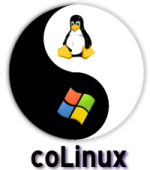 via
MeFi
and
slashdot
:
Cooperative Linux, coLinux, is the first working free and open source method for optimally running Linux on Microsoft Windows natively.
Interesting. I used to have my home computers dual-bootable into either Windows or Linux depending on my needs and mood. With coLinux it appears you could run them at the exact same time. This seems to be an extension of the
User Mode Linux
technology that my hosting company uses to run up to 32 different Linux distributions at the same time on a single machine.