Sony has announced a
portable music player
to apparently directly compete with
Apple's iPod
.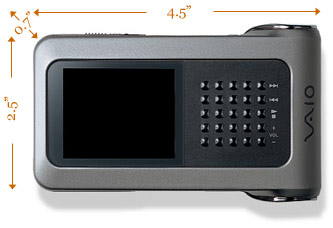 Featuring 20GB, USB2, a 320x256 colour LCD and a pretty interesting touchpad-like interface. That grid of black dots is a set of sensors that you interact with by running your thumb around on them. It's hard to tell how bumpy they actually are, but the idea of having a tactile interface is appealing to me. I'm sure there are other cool features, but my Japanese is non-existent. Oh yeah, it apparently also plays music. :) The 20GB storage plus a colour screen tells me this should easily double as a photo storage reservoir while on vacations. My previous trips have usually meant lugging a laptop around to dump photos to as the digital memory card fills up. Having a small device (like the iPod) that I can upload photos to (
like the iPod
) and view them on a colour screen (
unlike
the iPod) seems pretty darn nifty. I have to admit that 'VGF-AP1' doesn't quite roll off your tongue in the same way that 'iPod' does.