Push me.
And then just touch me.
Till I can get my satisfaction.
Those are apparently the only lyrics of this techno dance song by DJ Benny Benassi from Italy. I came across what first seemed like a commercial, but is actually the music video, and was instantly mesmerized. And not just because of the exposed flesh. The music is an extremely catchy and relaxing techno beat with computerized voices repeating the above quotes over and over. Synchronize the beats with beautiful oiled women in bikinis using power tools in slow motion and we definitely have a winner. Check out the video
here
, or click the image.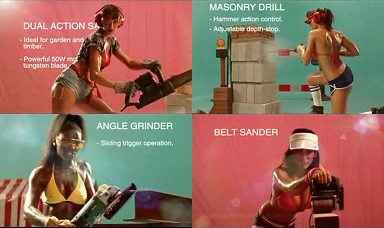 The full band name is
Benny Benassi and the Biz
from their album
Hypnotica
. There is also a CD released with 10 version of just the song satisfaction but I can't find it except through iTunes and don't like linking there.