If you are a fan of Flickr and happen to use iGoogle you may want to check out a Flickr Gadget I recently wrote. It looks like this: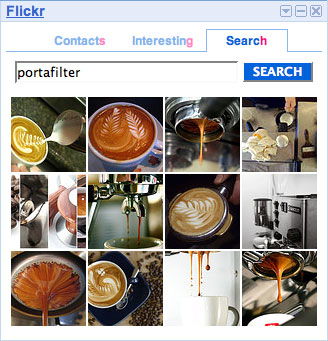 The gadget currently offers three tabs/views. You can see either the latest photos from your Flickr contacts (requires specifying your flickr userid in the settings), a sampling from recent 'interesting' photos, or specify keywords to search across all Flickr photos. You can view larger versions of the thumbnails overlaid in the gadget or jump right into Flickr proper.
I enjoyed creating the gadget and would love to hear any feedback or ideas for improvements.
To add the gadget to your iGoogle page just click the screenshot above or install with this button:
Disclaimer: I work on the iGoogle team at Google.