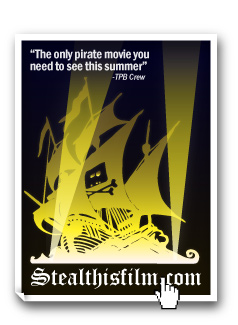 Regardless of how you feel about the legality or ethics of filesharing of copyrighted media, you should check out
Steal This Film
for a straight-forward, human-scale viewpoint on where filesharing is today from the perspective of people that actively share files and the people that operate the popular
Pirate Bay
BitTorrent tracking site.
A
low quality version
of the film is available on Google Video or you can download a
higher quality .mov
via BitTorrent. To download a BitTorrent file I recommend one of these fine clients:
uTorrent
,
Azureus
,
BitComet
.
It is also interesting to look at the latest anti-piracy productions like this
anti-piracy ad
from Australia, and this
Jackie Chan / Arnold Schwarzenegger team-up
and this video titled
The Global Avalanche of Piracy
found in the anti-piracy section of the
MPAA's website
.