When I needed some headphones a year ago for use at work, I drove to the local Fry's Electronics, bought the $20 cheapie Sony's and was done with it. They were alright for regular listening, were downright impressive when compared to my cheapie-cheapie previous headphones, blocked out some noise from work, and generally kept my ears warm while typing. Now a year later I've noticed that after a few hours I need to take them off because they squish my ears against my head giving me a headache. Also, they suck on airplanes. The dull roar of the engines just seems to change tone rather than decibel level while I knowingly wreck my ears jacking every volume level I can get my hands on to 11. Then I discovered
headphone.com
. An information-rich site providing all sorts of relevant details for the inquisitive headphone-hunter. Think of it like the
DPReview
for headphones rather than cameras.

First I tried the
Sennheiser PXC-250s
. A nice compact, folding set of active noise-cancelling headphones. The were comfortable to wear, gave excellent sound, and blocked much of the ambient noise that I hear from my cube. They came with a nice little case, had kevlar-strengthened cords and nice attachments for use with a stereo or a plane. Sadly, I took them back after 5 days when I discovered that extended use of the noise-cancelling made me feel carsick and dizzy. If I couldn't use the noise-cancelling then the extra money was just being wasted. For future reference,
Magnolia Hi-Fi
will happily match any price you find online and gave me no problems when I brought them back.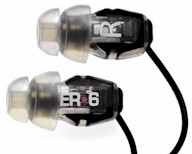 Next I ordered the
Etymotic ER6
headphones that you actually insert into your ear canal to seal out all noise. They arrived on Tuesday and I'm so far loving them. They block out more noise than the PXC-250s without the side-effect of the nausea. Sticking them properly in your ears is a little strange at first, and both the headphones and the headphones.com site comes with
instructions
on how best to achieve this. I was a little perturbed at their suggestion to moisten them before insertion, but have since gotten over that and now thrust them in there with a saliva-coated pleasure. I doubt I could return these even if I wanted to. They definitely feel weird for the first little while. Similar to the feeling of having your fingers in your ears. You get used to it though, and soon forget about them and just enjoy the rich, ambient-noise-free, nuances of music you never knew could sound so good. The final test is to see how they are on the plane. Since they are essentially sealing ear-plugs I don't foresee this being a problem. Happy listening!